The tidal flood control project in Ho Chi Minh City
Controls tidal flooding in HCMC and also takes into account climate change
factors
NK Engineering will provide and support the installation, monitoring of the river level measuring instrument package – a part of the tidal flood control project in Ho Chi Minh City.
Ho Chi Minh City ranks among the top 10 cities in the world most likely to be severely affected by climate change. The city's flood management system is at the edge of its capacity. The People's Committee of Ho Chi Minh City and Trung Nam Group (the investor) signed a BT (build-transfer) contract on June 3 to deal with tidal flooding in the city with a total investment of nearly VND10 trillion (US$450 million). The project is aimed at controlling flooding caused by the tide in a 570 square kilometer area that houses around 6.5 million residents in the city center and along the Saigon River.
The construction will include six major tidal gates, seven kilometers of embankment along a section of the Saigon River from the Vam Thuat River to the Kinh River, 68 small drainage systems, and pumping stations with a capacity of 12-24 cubic meters of water per second.
110 Endress+Hauser level measurements will be installed at six major tidal gates by NK Engineering to monitor the river level anytime. The package includes:

Micropilot FMR20 Radar for continuous level measurement and flow measurement with commissioning via HART or wireless via Bluetooth® app, Full PVDF body to resist outdoor conditions, sealed wiring, and fully potted electronics eliminate water ingress and allows operation under harsh environmental conditions.
Specifications :
– Process temperature : -40 ÷ +80°C (-40 ÷ +176°F)
– Process pressure : -1 ÷ +3bar (-14.5 ÷ +43psi)
– Application range : 10m (33ft) ÷ 20m (66ft)
– Accuracy : ±2mm (0.08")
Waterpilot FMX21 transmitter with capacitive, oil-free ceramic measuring cell is typically used in the process and environmental applications. With HART output, the measuring ranges can be freely adjusted and a density-compensated level measurement can be activated.
Specifications :
– Process temperature: –10 to +70°C (14 to 158°F)
– Application range: 0 to 20bar / 200m H20 (0 to 300psi / 600ft H2O)
– Accuracy: ±0.2%, "Platinum" ±0.1%
– Communication: 4÷20mA

Mr. Nguyen Tam Thinh – representative of Trung Nam Group said the project has reached about 30% progress and is expected to complete in April 2018. (The progress of the project will be updated continuously)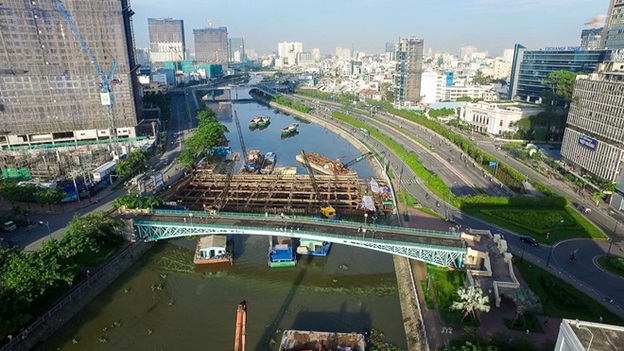 Ben Nghe gate – One of six major tidal gates