NK ENGINEERING – AUTHORIZED REPRESENTATIVE OF ROTORK IN VIETNAM
Rotork is the worldwide leading manufacturer of actuators for valves, gear boxes and valve kits and has a worldwide operating site services division. Rotork has been offering innovative solutions for the control of the flow of liquids, gases, and dusts since 1957. ROTORK is based in the UK and for more than 60 years of operation, Rotork has had a worldwide sales network. In 2018, Rotork had sales of £695.5 million.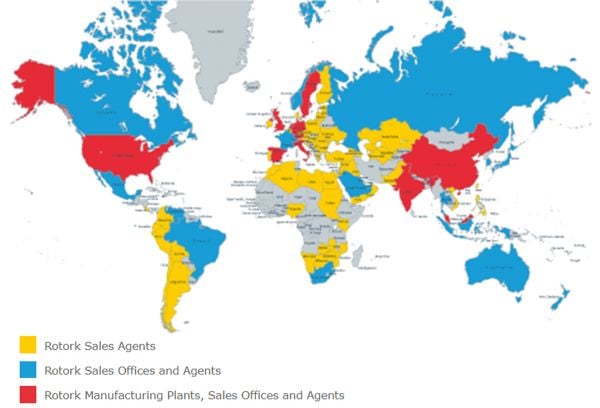 Rotork worldwide map

At Rotork, there is an emphasis on innovation and new product development, to better meet customer requirements. The company is a designer and manufacturer of industrial flow control products encompassing valve actuators, gearboxes, control systems, instrumentation and accessories in many industries such as: Oil & Gas, Power Generation, Water & Sewage, Marine, Mining,…

Rotork's instruments

NK Engineering Co. Ltd was established by an excellent professional team of engineers with over 15 years' experience in providing instrumentation and automation solutions. We are currently Rotork's sales agent in Vietnam, certified to provide Rotork's full range of products and services in the Food and Beverage, Chemical and process industrial market.
Reseller of Rotork
For more information and support, please kindly contact via email: Sales@nkengineering.com.vn