DEEP WELL GROUNDWATER MONITORING SYSTEM
What is groundwater monitoring?
Groundwater monitoring is measuring volume flow, level and quality of water in deep water wells under the ground.
Why must groundwater monitoring be automatic continuous?
Automatic and continuous groundwater monitoring not only helps investors optimize production processes and control volume flow, but also helps investors to proactively arrange production plans. Moreover, automatic and continuous groundwater monitoring meets requirements of Government regulations about management and use underground water resources.
What are the parameters of deep well monitoring?
According to the Circular No. 47/2017/TT-BTNMT of Ministry of Natural Resources and Environment, the parameters need to online monitoring depending on exploitation volume flow per day, parameters that need online monitoring are as follows:
Volume flow

(m3/day)

Exploitation Well

Monitoring Well

Level

Volume Flow

Level

Volume Flow

≥ 3000

Online

Online

Online

Periodic monitoring

200 – 3000

Online

Online

–

Periodic monitoring

10 – 200

Periodic monitoring

Periodic monitoring

–

Periodic monitoring
With a wealth of experience in the construction and installation of metering and automation solutions, NK Engineering supports consulting and providing customers with a full package of automatic groundwater monitoring solution. Customers can monitor internally to optimize production processes or monitor online, transfer data to DONRE as prescribed.
Our groundwater monitoring solutions are integrated Endress+Hauser measurement equipments having high accuracy, low maintenance and operation costs. More specifically, our equipment has been confirmed quality in hundreds of countries around the world, giving customers absolute confidence when choosing us.
Our groundwater monitoring system is built with 2 main parts:
– Flow meter and water meter are located at each well
– Data transmission system includes: local datalogger located at each well and 1 main datalogger in the central well receiving all data transmitted.
Data transmitted from the main datalogger will be transmitted to the control room at the factory for internal monitoring 24/24 and transmitted to DONRE by Internet static IP, via FTP and file.txt to meet the Department's requirements.

Some photos NK Engineering has implemented automatic, continuous groundwater monitoring system at Frieslandcampina Vietnam factory: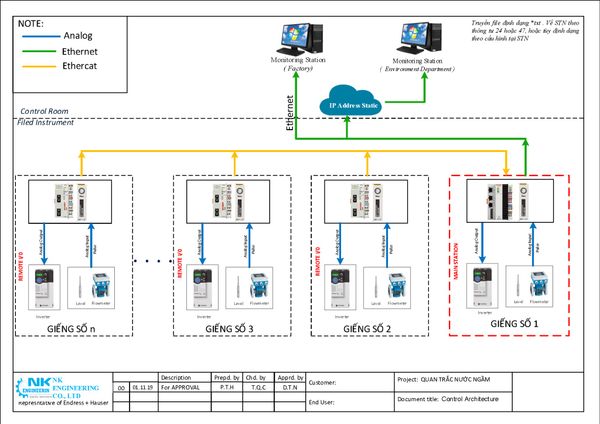 Overview of an automatic and continuous groundwater monitoring system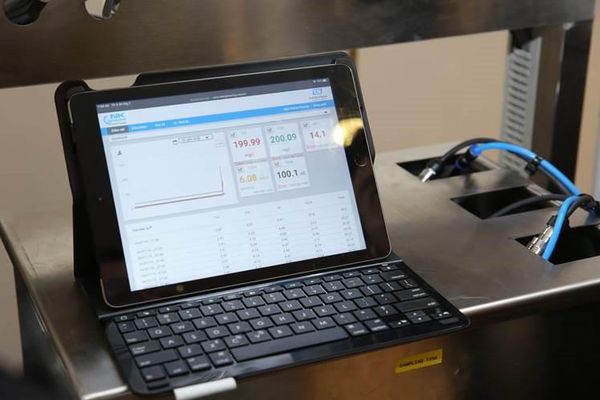 Monitoring interface of automatic and continuous groundwater monitoring system

For more assistance, please contact us via email: sales@nkengineering.com.vn